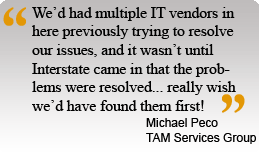 Small Business Server
The simplest small business tool to connect multiple users is a peer-to-peer network, which links together a series of computers via cables. This type of network allows everyone on the network to share printers and exchange files. There are several serious drawbacks to a peer-to-peer network: There is no centralized data storage; no centralized security; the computers need to be in close proximity with each other; and all of the computers need to be turned on. The network also slows down significantly when more than five computers are connected.
The next level beyond this simple network is a Client/Server Network. This type of network uses a Server, which is a single, robust, high-performance computer that serves as the central hub that links all of your employees' computers. The server is designed to manage tasks much more efficiently and securely, such as file sharing, print processing, e-mail and network management. The individual PCs, laptops and remote devices such as PDAs are "Clients." By leveraging the resources of their client/server network, and combining wireless technology and the Internet, small businesses are achieving breakthroughs in the way their employees work.
As the owner or manager of a small business, you can now accelerate your growth and productivity by using a single computer solution - the Microsoft Small Business Server 2003 - to connect together all of the computers in your company. Using our popular Small Business Server Solution, one of the most widely implemented client/server networks in the industry, will provide you with four powerful benefits:
INCREASED PRODUCTIVITY AND EFFICIENCY: Storing files and data in a central location saves time and resources. Staff do not need to determine who is currently using a document, and don't have to track them down to request a copy. Important project documents don't get lost or misfiled; they are all easily accessible by everyone. This simplifies collaboration and enhances productivity on all projects involving two or more team members. Whenever someone updates a file, the new information is instantly available for everyone with access to those files.
EXCELLENT RETURN ON INVESTMENT: Microsoft states that in a report published by Forbes.com, employees that used a Small Business Server increased their productivity by an average of 20 percent as a result of the ability to find and share documents easily, collaborate on projects, automate many routine tasks and access the workplace collaboratively. The average business recouped their total investment (including hardware, software, installation and support) in less than six months! This dramatic ROI is one reason many smaller businesses are now embracing this technology and linking all the separate computers and devices throughout their companies.
PROTECTS CUSTOMER AND BUSINESS INFORMATION: System monitoring tools and backup capabilities are automatic. Default settings back up all of your employee's files to help safeguard against data loss. Accidentally deleted or overwritten files can be restored with a built-in Shadow Copy feature. Even better, your staff has the ability to retrieve these files themselves, without involving other personnel or outside contractors. Internal firewalls protect against intruders; junk mail controls filter out spam and remove dangerous e-mail attachments. You control who has network access and how much access they have, and you can set software policies which prevent unauthorized installations and downloads, helping to protect your system from viruses, spyware and other malware.
REMOTE ACCESS TO NETWORK: You can log on to any computer in the world, and using the Internet, you will have full access to your desktop at work. If you're traveling on business or for pleasure, working across town or across the globe, at an airport or at the beach, you can receive and answer e-mail, review your schedule and make updates and keep track of projects in progress. In addition, if your telephone network is converged with your computer network, you can even listen to voicemails left on your telephone through your remote PC! Remote access devices include laptops, local computers with an Internet connection, smartphones and PDAs. These abilities keep you connected while you're on the road - and give you more control, even when you're not in the office.
When to Upgrade Your Server
Take a look at this article describing the telltale signs of a need to upgrade.